Seriously, what did you expect to find here? Vital statistics?
Born ~ January 1, 2002
Weight August 12, 2002, 48.5 lbs.
Weight November 3, 2002, 53 lbs.
Weight January 10, 2004, 56 lbs.
Bella's Statement?
I am seeking a thrilling career path which will expand on my skills and enable me to demonstrate ... (yawn!) ...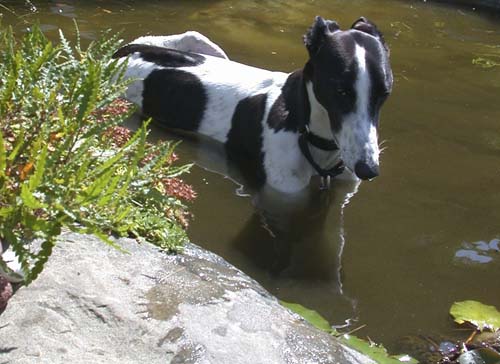 The Frog Pond, Summer 2003 in Round Top NY
In mid-winter, Kathy said of this memory: Oh, how lovely, just what I needed. It's like I couldn't remember that summer will come again, with it's smells and things like breezes, sunshine, and water touching your skin instead of only long underwear day after day. And the vibrancy of all the green things growing.
Actually, I am looking at a possibility of a part-time job as Personal Trainer for ... ah ... shapeliness-challenged and er, underachievingly-dynamic puppies. OK, OK. Fat, sluggish couch potatoes.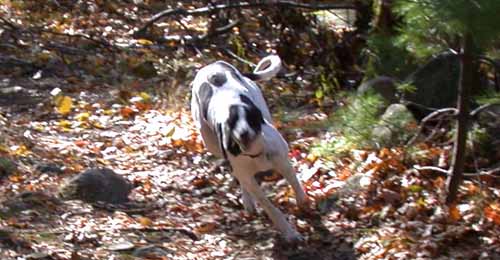 Check out that angle from the vertical. And those slippery leaves. Whatever is that tail position compensating for?